British Drilling and Freezing Company Limited
Private Road No 3.
Colwick Industrial Estate
Colwick,
Nottingham, NG4 2BB
T:
+44 (0)115 9611300
F:
+44 (0)115 9617338
E:
Workover

Services

BDF provides its rigs and services to clients who need to carry out repairs or modifications to their below-ground infrastructure. Typical types of work involved include maintenance of oil and gas wells, leaching for brine production wells and gas storage cavities, fishing for dropped objects, removing corroded production pipes and packers, milling out stuck production strings, re-lining wells, installation of dual completions with associated packers and opening up wells prior to re-entry for horizontal sidetracks.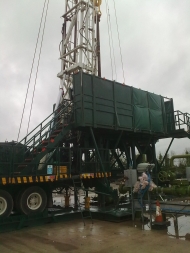 Any of our drilling rigs can be used to carry out workovers, with rig selection dependent on the size and scale of the work involved. Rig 30 is a dedicated workover rig.
BDF owns and maintains its own strings of drill pipe, drill collars and other downhole equipment and we hold extensive stocks of fishing equipment. One-off fishing tools can be manufactured in our workshops.
For further information on BDF's workover rigs please click on the following links:
Rig 41 is operated by BDF's Boldon Drilling division.