British Drilling and Freezing Company Limited
Private Road No 3.
Colwick Industrial Estate
Colwick,
Nottingham, NG4 2BB
T:
+44 (0)115 9611300
F:
+44 (0)115 9617338
E:
BDF DEPOT

- YARD and MACHINE SERVICES

BDF operates out of a 6-acre base in Colwick, Nottingham, where we have welding, fitting and machine shops and the capability to erect, repair and maintain all of our drilling rigs and equipment.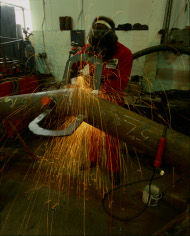 In addition to our own work we also provide third party customers with specialised services in machining, fabrication and mechanical repair, including inspection and certification of critical components.
BDF supplies high quality bespoke metal fabrications both to the oil and gas drilling sector and to industry generally. Past structures have been as large as 30te.
All our welders are coded to weld structural items to AWS D1.1/1M2008 and pipes to ASME 9.
We use all certifiably traceable materials to manufacture rotary subs and lifting accessories etc. We can also cut all drill pipe and casing threads, working to API specifications.
Our machine shop employs highly trained and skilled workers with many years of experience in all types of industry.
Among many other items such as a horizontal grinder, vertical slotter and large drill press, our machine shop equipment includes the following:
| | |
| --- | --- |
| CHURCHILL 415 CNC lathe with 350mm swing and 12 tooling heads | |
| CINCINNATI slidehead vertical mill | |
| MAZAK SLANT 40N lathe with 350mm swing | |
| HURON MU6 CNC mill | |
| COLCHESTER 1400 lathe with 3m bed | |
| COLCHESTER MASCOT 1600 general purpose lathe | |
| BRUGEOISE cylindrical grinder | |
| STANLEY double chuck 9.25" hollow spindle turret lathe | |
| WARD 'OIL COUNTRY' double chuck 9.25" hollow spindle lathe with 3m bed | |
If you would like to discuss using BDF's machine shop services please contact
Kevin McCabe