British Drilling and Freezing Company Limited
Private Road No 3.
Colwick Industrial Estate
Colwick,
Nottingham, NG4 2BB
T:
+44 (0)115 9611300
F:
+44 (0)115 9617338
E:
RIG 25

Failing 2500SE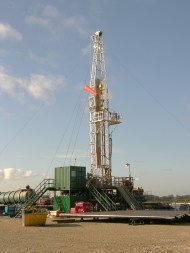 BDF Rig 25 - George E Failing & Co. 2500SE trailer mounted mobile drilling rig
Failing telescopic mast - 19.82m (65') clear height with a maximum static hook load of 95,000lbs
Substructure - 3.05m (10') rotary beam clearance. 232,000 lbs simultaneous capacity
Failing 2500S double drum drawworks with GM 671 150KW (200HP) power
2no. National C150B duplex mud pumps each powered by Cummins NT855 diesel engines in acoustic enclosures
1no. Gardner Denver FD/FXX duplex mud pump mounted on the rig
250bbl mud tank system with four compartments
Hydril GK 13 5/8" x 3000psi Annular B.O.P
All major units are acoustically clad allowing Rig 25 to operate in environmentally sensitive areas.