British Drilling and Freezing Company Limited
Private Road No 3.
Colwick Industrial Estate
Colwick,
Nottingham, NG4 2BB
T:
+44 (0)115 9611300
F:
+44 (0)115 9617338
E:
Company

Overview

British Drilling and Freezing Company Limited (BDF) and its Boldon Drilling and BB Drilling divisions, is the UK's largest onshore drilling contractor. We offer the UK's widest range of

drilling services

from complex extended lateral oil wells over 9000m measured depth to shallow holes less than 10m deep.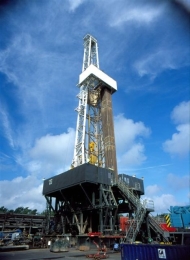 We drill holes for oil and gas exploration and production, underground gas storage, coal and deep mineral exploration, coal-bed methane extraction, groundwater, geothermal energy, ground source heat, site investigation, and construction.
The Company also -
Specialises in Ground Freezing techniques to seal and stabilise civil engineering and mining excavations.
Operates both nationally and internationally out of our 6-acre base in Nottingham, England where we have our offices and yard facilities.
Within our expertise we will consider any project where unusual or novel solutions may be required.
No other drilling company operating in the UK today can offer such a wide variety of drilling expertise, equipment and techniques.



---