British Drilling and Freezing Company Limited
Private Road No 3.
Colwick Industrial Estate
Colwick,
Nottingham, NG4 2BB
T:
+44 (0)115 9611300
F:
+44 (0)115 9617338
E:
Exploration

Drilling

BDF carries out exploration drilling for coal, salt, water and other minerals. This is a highly specialised activity in which a variety of rigs and equipment must be combined with considerable expertise in order to meet the precise requirements of the client. BDF is able to offer this specialist service based upon methods and techniques selectively incorporated over more than 80 years' experience of rotary drilling operations.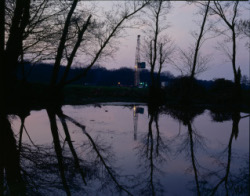 BDF has an unrivalled reputation for core recovery with average recovery rates in excess of 99% of strata drilled. Using our own PQ wireline system we are able to core to depths in excess of 1500m.
The company has an extensive inventory of drilling rigs, equipment, downhole tools and tubulars, including equipment for coring at various sizes, using both wireline and conventional core barrels.
For further information on BDF's mineral exploration rigs please click on the following links: