British Drilling and Freezing Company Limited
Private Road No 3.
Colwick Industrial Estate
Colwick,
Nottingham, NG4 2BB
T:
+44 (0)115 9611300
F:
+44 (0)115 9617338
E:
RIG 91

Ideco E900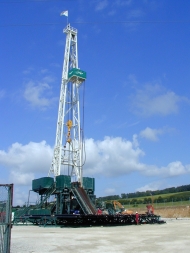 Boldon Drilling Rig 91 - Drilled throughout UK and Europe. Acquired by Boldon Drilling in 1986
DRECO Mast - 41.46m (136') clear height with a maximum combined hook load of 572,000lbs
API 4F M.I.L. Varco Substructure - 6.71m (22') high. 600,000 lbs casing capacity with 350,000 lbs setback capacity
Ideco E900 drawworks, 900KW (1,200HP)
2no. Ideco T-1000 mud pumps each powered by 2no. GE752 DC electric motors providing 2,387KW (3,200HP) in total.
1,200bbl mud tank system
3no. Caterpillar C32 diesel generator sets producing 0.9MW electrical power each, new in 2009
Ross-Hill SCR drive system
3" x 5,000psi Anson choke manifold
13 5/8" x 5,000psi Cameron double ram B.O.P stack with Hydril GK 13 5/8" x 5,000psi Annular B.O.P.
All major units are acoustically clad allowing Rig 91 to operate in environmentally sensitive areas.